13 Colorado Events and Outdoor Festivals That Locals Love
Summer is a very busy time of year for festivals, and Colorado has lots of beautiful sunny days and balmy nights.
However, there are lots of festivities happening in the fall and winter times, too.
There is always something going on both day and night in Colorado.
Growing up in Colorado, I remember attending lots of local art shows and parades in many historic towns.
If you're planning a visit to Colorado in the early summer, line up with the locals to celebrate the history and culture of our cities!
Many of the bigger cities in Colorado will be celebrating Territory Days with music, performances, food, and even petting zoos.
You'll definitely feel like a local with these outdoor events and food festivals. They're a great way to learn more about the history of Colorado.
Important: Due to the dryness of our air in basically all of Colorado, fireworks for personal use are almost totally illegal.
Nearly every city will have a large community fireworks show on holidays like Fourth of July and New Year's for your viewing pleasure.
Here is a quick line up of all the Colorado events and outdoor festivals you can't miss!
1. A Taste of Colorado
While many cities host their own food tour events, by far the biggest food tour in Colorado is A Taste of Colorado.
Celebrate the rich diversity of Colorado's food culture over Labor Day weekend this year in downtown Denver.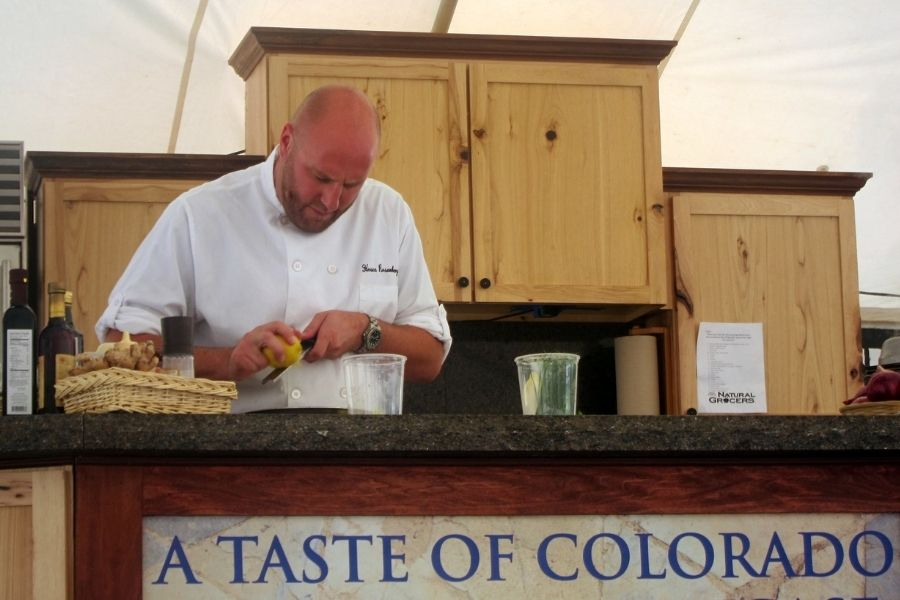 You'll get a chance to try food and drinks from popular restaurants throughout the state, meet the chefs, and sample local beers and wines as well.
Dates: September 3-5, 2022
2. Denver BBQ Festival
To celebrate Father's Day (even if it is a bit late) enjoy a weekend of BBQ, bands, and beer.
Join thousands of other barbecue enthusiasts for the 4th annual Denver BBQ Festival.
Hosted at the Mile High Stadium in Denver, this event is free to enter with drinks and food available for purchase.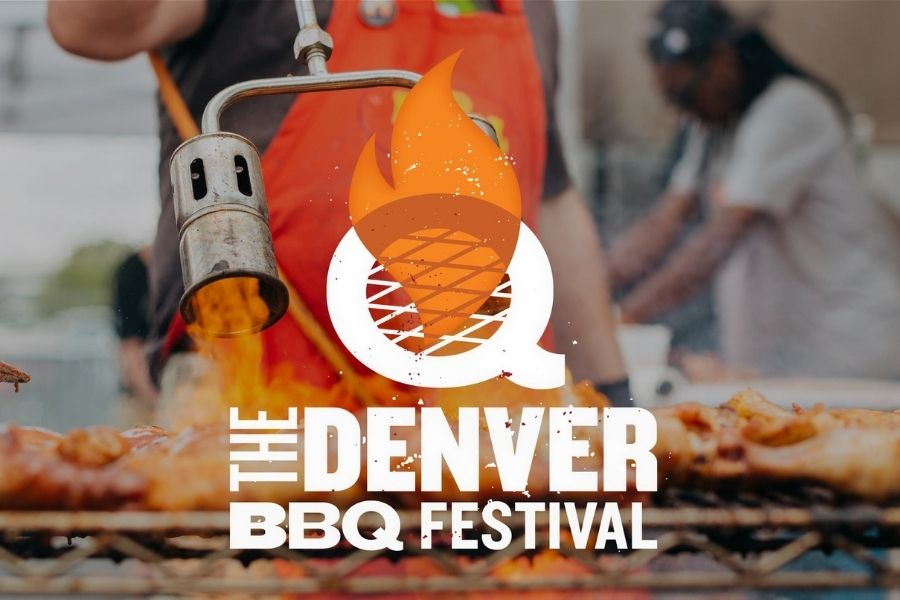 Over 18,000 pounds of meat will be barbecued up and served during this delicious weekend. Who doesn't love meat cooked on a charcoal smoker for long hours with tons of flavor?
Plus, VIP Pit Pass purchasers will go behind-the-scenes to meet the barbecue Pit Masters.
Dates: June 17-19, 2022
3. Crested Butte Wildflower Festival
As we mentioned in a previous post, Crested Butte, Colorado is best known as the wildflower capital of Colorado.
Every July, the city of Crested Butte hosts the Crested Butte Wildflower Festival.
Flower lovers will enjoy hiking tours to see the wildflowers or get a lift into the backcountry with a 4×4 Jeep tour through the fields.
You can also take part in an art or gardening class!
Dates: July 8-17, 2022
4. Telluride Bluegrass Festival
For music fans head to Telluride, Colorado for the 48th annual Telluride Bluegrass Festival in June!
Past performances include some big names like John Butler Trio, Mumford and Sons, Elvis Costello, and more!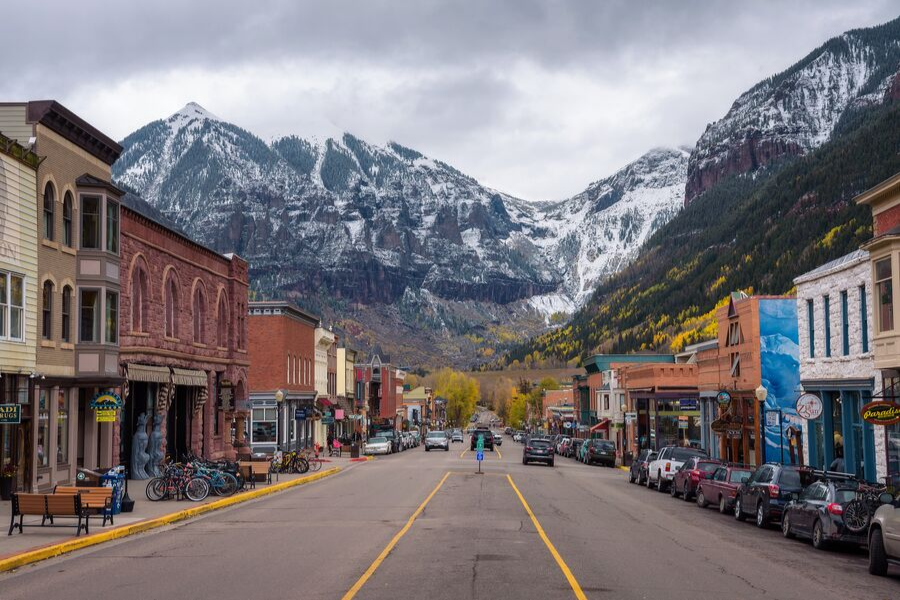 This is a 4-day-long musical event, and is a favorite among locals and visitors alike!
Telluride also made our list of best places in Colorado to beat the heat.
It's a mountain town with much cooler daily temperatures, and perfect for a summer getaway.
Dates: June 16-19, 2022
5. Telluride Balloon Festival
Due to the cool nights, warm days, and generally dry air in Colorado, the state hosts many hot air balloon festivals throughout the year.
And after the sun sets, you can even catch a balloon glow!
Watch the lighted balloons float through the night sky. It's a spectacular end to any balloon festival.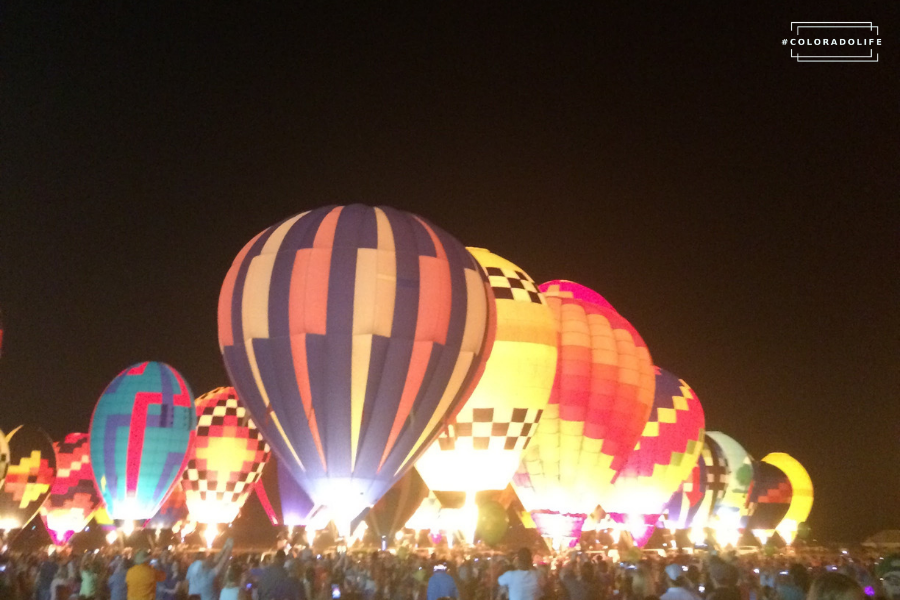 Catch the first major balloon festival of the season, the Telluride Balloon Festival.
Rise early, and you may even get to help balloon operators launch from Town Park on the east side of town!
The balloons then sail off down the box canyon to land about one mile out of town.
On Saturday night, grab a sweater and stick around for the balloon glow!
Dates: June 3-5, 2022
6. Frederick in Flight Hot Air Balloon Festival
Towards the end of June, visit the Frederick in Flight Hot Air Balloon Festival in Frederick, Colorado.
The event is celebrating their 10th year with hot air balloons and fun for the whole family.
Take-off starts at 6 am, so get there early to partake of the breakfast food vendors.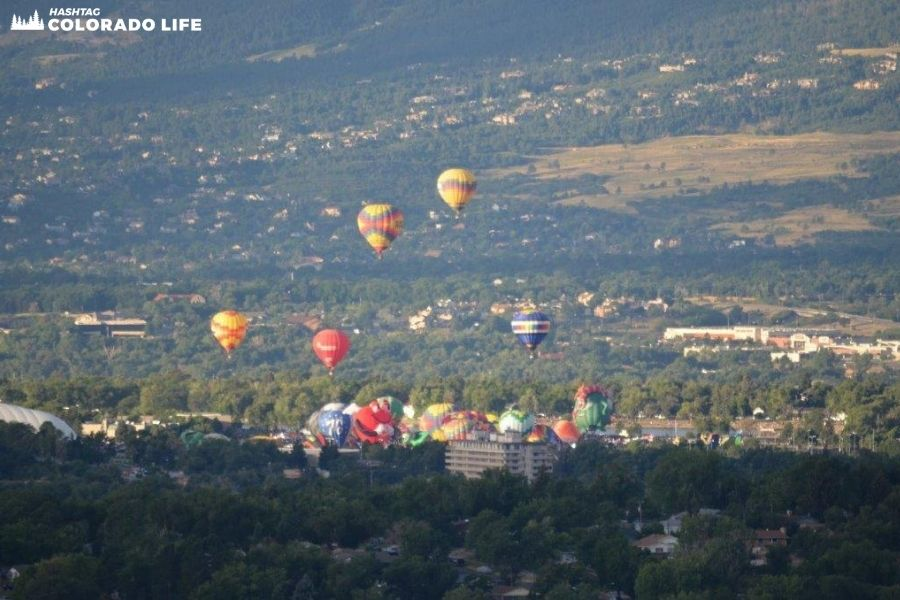 Then, watch the balloon pilots fire up for the morning takeoff.
The Glow Party will take place on Saturday evening from 5-9pm at Centennial Park.
Dates: June 25-26, 2022
7. Palisade Peach Fest
If you've never had a Colorado peach, then you're missing out. But you can get your fill at the annual Palisade Peach Festival.
Head down to Palisade, Colorado for live music, vendors, activities, and yes, peaches!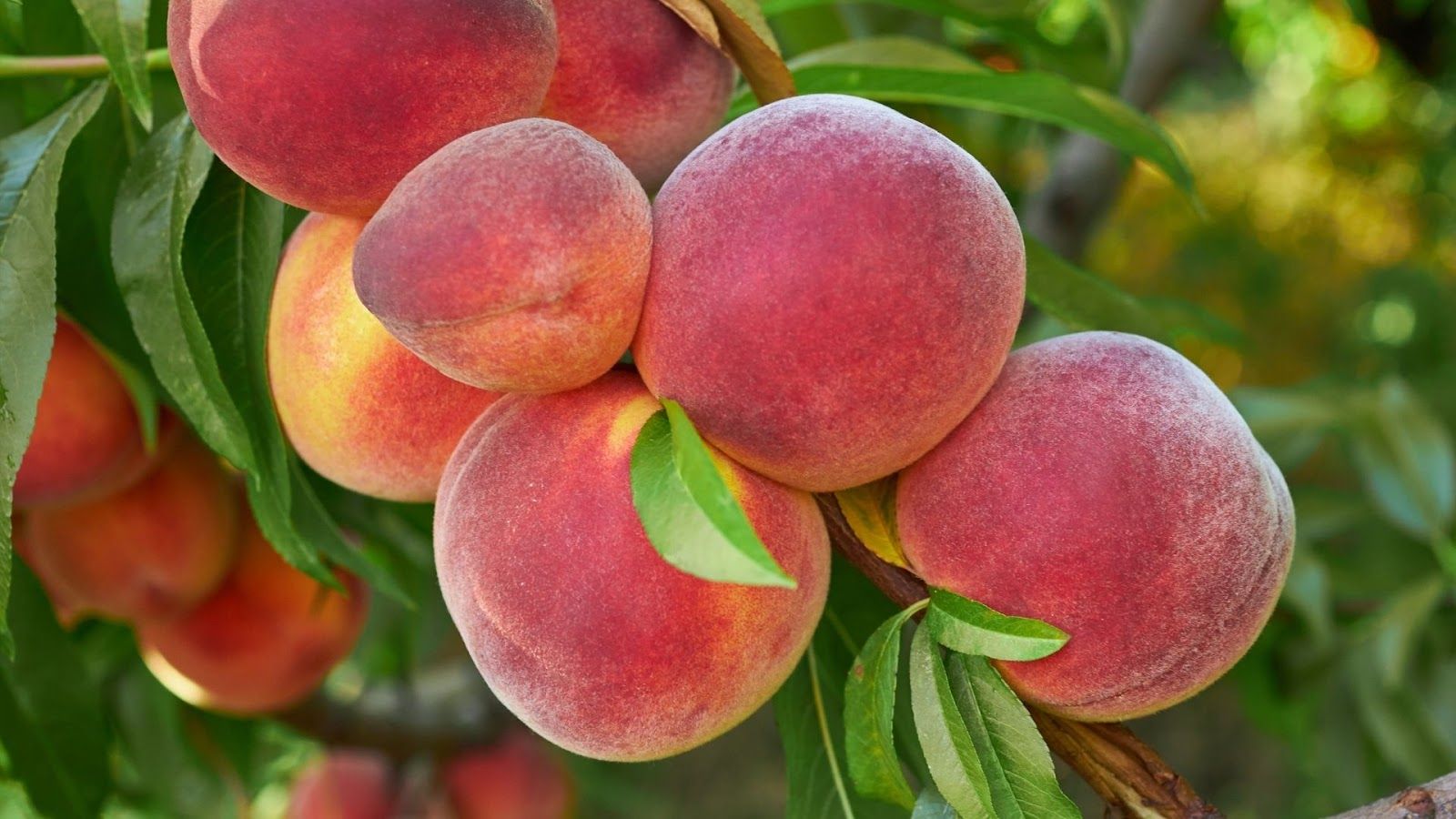 This type of peach is native to Colorado and is one of the unique foods that make such a colorful food scene.
These peaches are even sweeter and juicier than a Georgia peach, and well worth the trip.
Dates: August 12-13, 2022
8. Colorado State Fair
In Pueblo, Colorado towards the end of summer is the amazing Colorado State Fair.
Adult admission cost $12 with admission for kids 5-12 years old costing $6 each.
But there are lots of special discount days including:
Kids day

Senior day

American heroes day (military and first responders enter free)
The Colorado State Fair features all your state fair favorites: rides, food, carnival games, a concert series and rodeo tour.
You will also find craft and homebrew competitions and live music throughout the fair's 11-day run.
Or check out the Colorado State Fair in Pueblo. Close out the summer with classic fair food, rides, and attractions in Pueblo, Colorado.
Dates: August 26 – September 5, 2022
9. Renaissance Festival in Larkspur
The Renaissance Festival in Larkspur is open for 8 spectacular weekends in the summer.
Enjoy a unique experience with magical memories of the renaissance days. Play games, watch skilled knights, and drink wine with lords and ladies.
There may be traffic or construction delays on Interstate 25 so give yourself plenty of time to get to and from the festival.
Dates: Saturdays and Sundays only, June 18th-August 7th, 2022
10. Colorado Shakespeare Festival
Catch performances of your favorite Shakespeare plays every week during the summer at the Colorado Shakespeare Festival.
Enjoy musica and the outdoors in the amphitheater on the Colorado University campus.
And if you're visiting around Memorial Day weekend, stop into the Colorado Springs Territory Days in Colorado Springs. Or visit the Manitou Springs Territory Days.
Dates: Various dates from June 5 – August 7, 2022
11. Colorado Springs Labor Day Lift Off
If you're in Colorado Springs for Labor Day weekend, you're in for a Labor Day Lift Off treat! This free event is fun for all ages!
Start your morning off right with a hot air balloon mass ascension of more than 70 balloons, and enjoy breakfast and drinks from local vendors.
You'll definitely want to stay for the entire weekend!
Fun activities featured at this even include skydiving demonstrations, wakeboarding exhibitions, live entertainment, and chainsaw carving.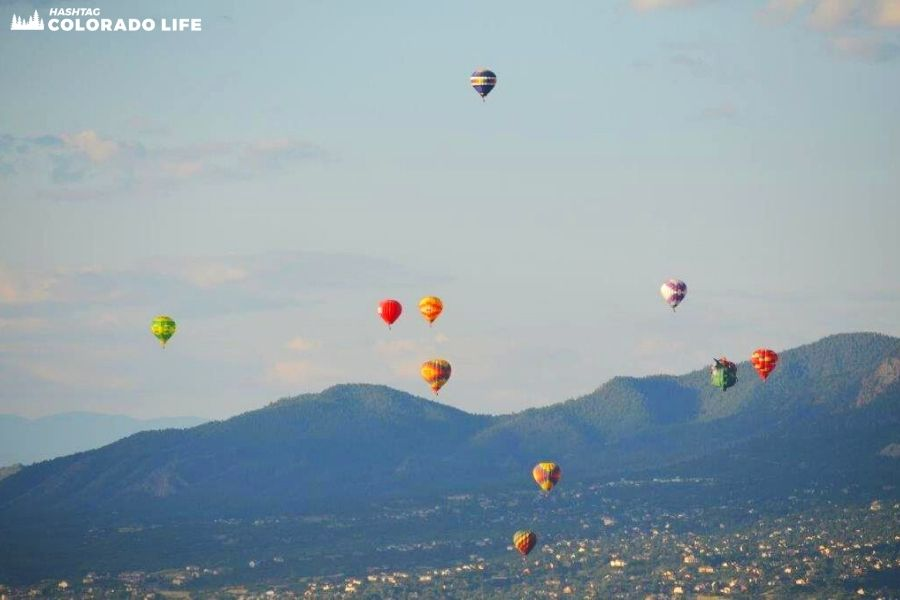 Plus, check out the donut-eating competitions continuing throughout the daytime.
Just when you think you can't have any more fun, the balloon glow starts at dusk.
Dates: September 4-6, 2021
12. Pikes Peak or Bust Rodeo
In Colorado Springs each July, throw on your boots and spurs and head for the Pikes Peak or Bust Rodeo.
If you've never been to a rodeo before, you'll see all the rodeo staples, including rodeo clowns.
Get five days of competition and themed performances, and watch the opening rodeo parade.
Dates: July 13-16, 2022
13. Botanic Gardens
A great Colorado event right here in Denver is a visit to the Botanic Gardens.
We highly recommend you stop in on Wildflower Wednesday.
Every third Wednesday from April through October is Wildflower Wednesday where you can learn more about the wildflowers.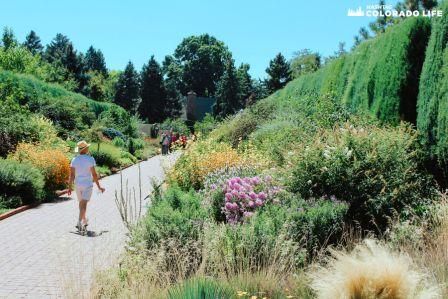 Many wildflowers bloom at Denver's elevation before they bloom in the mountains, so take a tour with the horticultural expert to study up on your flower species.
Dates: Open all year
Colorado events happening all year
As you're planning your summer or seeing fall colors, keep these epic Colorado events in mind.
Or to find a specific festival any other time of year, check out Colorado.com/Events.
You'll get travel inspiration, deals, and other info directly from the Colorado destinations.
~ColoradoLife.com
Selling Your Home?
Get your home's value - our custom reports include accurate and up to date information.
Get Home Value