230 Miles of Hiking Trails Within Evergreen Park Rec District
Trails in the District
There are over 230 miles of hiking and biking trails within the boundaries of the Evergreen Park & Recreation District (EPRD), 6.45 miles of which are on EPRD property. The majority of these trails are owned and managed by other agencies.
Several types of trails exist, including natural trails and paved trails. Some trails are contained within the extent of individual parks, and some meander through the District and connect parks and open space to homes and businesses. Many of the trails are destination hikes and attract not only residents, but also users from outside of District boundaries.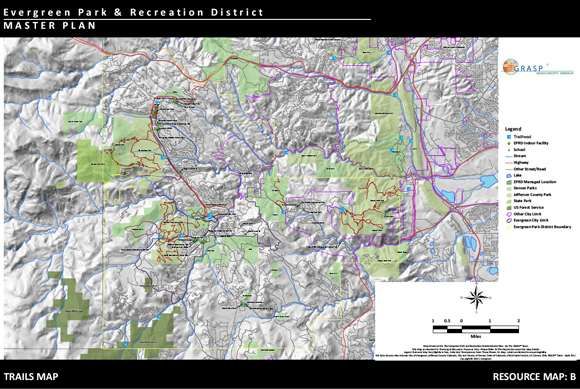 Trails Map
View Larger Version of Trails Map (PDF)
Hiking Tips in Colorado
Ease into it
Opt for a trail that matches your fitness level, so you can familiarize yourself with the area and terrain first. While Colorado is best known for its 14ers and breathtaking backcountry, it's important to start easy and work your way up more difficult hikes.
Bring plenty of water and snacks
It's important to stay hydrated during physical activities, especially at high altitude. This is because elevation can cause you to become dehydrated more quickly. Be sure to fill up your water bottles or Camelbacks before heading out. Here is a good rule of thumb to follow: Drink at least one liter (32 oz.) of water every two hours while hiking. Keep in mind that you may need more on hot days. If you're bringing a dog with you on the trail, be sure to pack extra water for them as well!
In addition to staying hydrated, it's a good idea to pack some snacks for the trail. Consider snacks that have a mix of protein and carbohydrates to help keep your energy up for the duration of the hike. This includes things like peanut butter crackers, jerky, trail mix and fruit snacks. You'll thank us later.
Leave no trace
Stay on the designated trail and pick up all trash and dog waste. Summer and fall in Colorado are high-risk times for wildfires. Pay close attention to fire restrictions and bans (including bans on smoking cigarettes and marijuana) which are in place throughout the state. Be sure to follow all rules and regulations which are critical in protecting visitors, wildlife and our beautiful parks and trails.
Use sunscreen
Did you know that you're more likely to get sunburned at higher elevations? That's because there is less atmosphere to protect you against the UV rays. Remember to wear sunscreen whenever you go on a hike, even short ones. We recommend using an SPF 30+ and reapplying every 1-2 hours. Hats and sunglasses can provide additional protection from the sun.
Dress for success
Colorado weather can change in an instant, so it's important to be prepared for inclement weather. Be sure to check the forecast and start early in the day. We recommend dressing in layers, so you can cool down when it's hot and bundle up in case of unexpected showers. Synthetic options are best, as it doesn't hold moisture as much as cotton clothing. Pack a rain jacket for unexpected rain and always bring a first aid kit in case of injuries (blisters, twisted ankle, etc.). It's also important to wear appropriate shoes that fit you properly, provide adequate support and have tread for good traction on the trails.
Use the buddy system
If you're going out on a hike, take a friend (or a few)! Accidents are more common than you may think, so it's good to have someone around to call for help or provide assistance, especially on less frequented trails. Bringing a first aid kit can also help in case of an accident. If you do decide to go it alone, tell someone where you're going and how long you expect to be out. Have a plan in place in case they don't hear from you. That way if something does happen, that person will be able to send for help.
~Evergreen Park & Rec District; University of Colorado Boulder
Selling Your Home?
Get your home's value - our custom reports include accurate and up to date information.
Get Home Value