Ways to Help During the Pandemic
Mountain Backpacks
As you can imagine, due to the COVID-19 pandemic, our normal supply chain for affordable food products cannot keep up with the rapidly growing demand. We have been working closely with local providers and restaurants and need your help to feed these families in need. We are asking for you to help in one (or all!) of 3 ways:
Ship items to: Shelley Harmon, 32531 Lodgepole Dr. Evergreen, CO 80439
Make sure the Recipient email is - [email protected]
Beau Jo's has generously offered to give families an additional 30% off when they show this gift card and say they are with Mountain Backpacks.
Drop off food at one of our drop-off locations:
We have set up convenient drop off locations for friends of Mountain Backpacks to drop off non-perishable food items.
Marshdale General Store Kittredge General Store
7071 Co Rd 73 26300 Hill Top Dr.
Evergreen, CO 80439 Evergreen, CO 80439
Non-perishable food items needed: Mac-n-cheese, healthy cereal, sandwich crackers, granola bars, beef sticks (slim jims), applesauce cups, ramen noodles, breakfast bars, hearty soup, chili, canned ravioli.
Donate Blood
1-877-25-VITAL
Evergreen Christian Outreach
YOUR SUPPORT MAKES A DIFFERENCE TO PEOPLE IN NEED
Your financial gifts, both large and small, will help us to achieve our mission of assisting people in our community with their basic and urgent needs and to help them realize their potential on a path to self-sufficiency.
Thank you in advance for your generous support that allows us to make a difference in the lives of thousands of people and their families each year.
https://www.coloradogives.org/index.php?section=organizations&action=newDonation&fwID=27367
Mountain Resource Center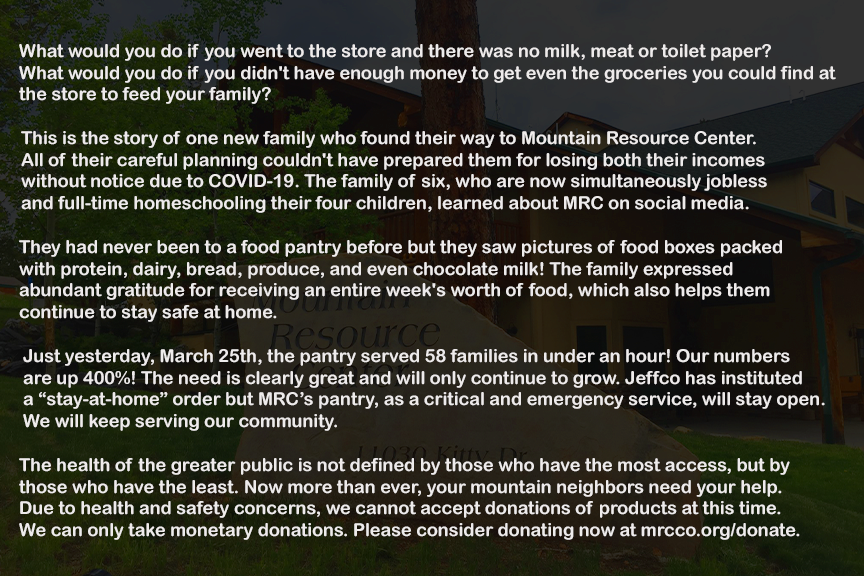 Selling Your Home?
Get your home's value - our custom reports include accurate and up to date information.
Get Home Value