Avoid Wildlife Collisions

Tips for staying safe on Colorado's highways and byways
Wildlife may not have to wrestle with changing the time on their microwave oven, but the weather and human clock changes can pose challenges for animals moving to lower elevations for the coming winter. Colorado Parks and Wildlife reminds drivers that with dusk arriving earlier, the chances increase for collisions with deer and elk on Colorado's roads.
According to the Colorado Department of Transportation, November sees more car accidents involving wildlife than any other month.
"It's going to be obviously most dangerous at dusk and dawn," said Colorado Parks and Wildlife District Wildlife Manager Cody Wigner. "This time of year, the days are getting shorter and people are commuting to and from work at those times."
Visibility is poor when many of our big game animals are most active. Deer are extremely vulnerable to being struck this time of year because this is their peak mating season. They are more mobile, easily distracted and more likely to be crossing roadways.
According to transportation studies, motor vehicle accidents involving wildlife rank as the third leading cause for crashes behind speeding and inattentive driving. These statistics include severe property damage, injuries and fatalities.
Remember These Tips
While some collisions may be unavoidable, motorists can reduce the likelihood of an accident by taking the following precautions:
Slow Down! Driving more slowly increases reaction time and reduces the chance of a collision.

Stay Alert while driving at dusk and dawn. This is when many of Colorado's wildlife are the most active and are likely to be crossing roadways.


Scan Ahead and watch for movement along roadsides. When driving at night, watch for shining eyes in headlights. Always look and be prepared for more than one animal.

Obey traffic signs and watch for wildlife warning signs.

High-risk Areas
A series of wildlife crossings on Colorado Highway 9 provide safe travel for motorists and...
Wildlife-related accidents can happen anywhere in Colorado. However, drivers should be especially cautious when traveling through forests and agricultural land, as well as the following "high-risk" areas:
Evergreen Parkway

Interstate 70 (Floyd Hill, Mt. Vernon Canyon and Eagle)


US 285 (Morrison)

Highway 160 (Durango to Pagosa Springs and Durango to Mancos)


Highway 550 (north of Durango and from Montrose to Ouray)

Interstate 25 (Castle Rock to Larkspur)


Highway 82 (Glenwood Springs to Aspen)

Highway 36 (Boulder to Lyons)


Highway 93 (Golden to Boulder)
Animals on the Move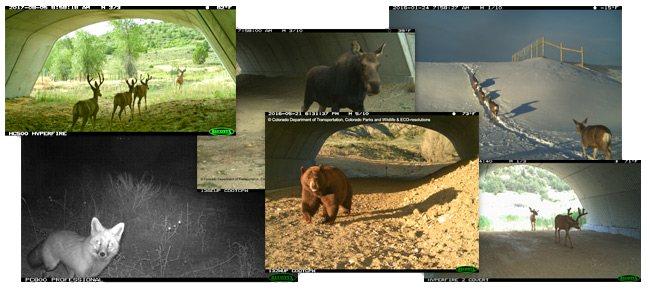 Why are all of these animals on the move?
Many big game species exhibit annual migrations by moving along traditional routes between seasonal ranges, often associated with plant phenology and weather. Colorado's big game typically migrates from higher elevations in the summer to lower elevations as winter approaches; and migrate in the spring from winter range back to summer range, following the spring forage green-up. Animals also need the ability to move within seasonal ranges to maintain resiliency in response to habitat conditions and changing pressures on the landscape. Visit the Wildlife Migration and Movement page to learn how CPW and our partners are helping wildlife stay safely on track.
~Colorado Division of Wildlife
Selling Your Home?
Get your home's value - our custom reports include accurate and up to date information.
Get Home Value