Boredom is NOT An Option in Colorado
The 15 of the BEST Picnic Spots in Colorado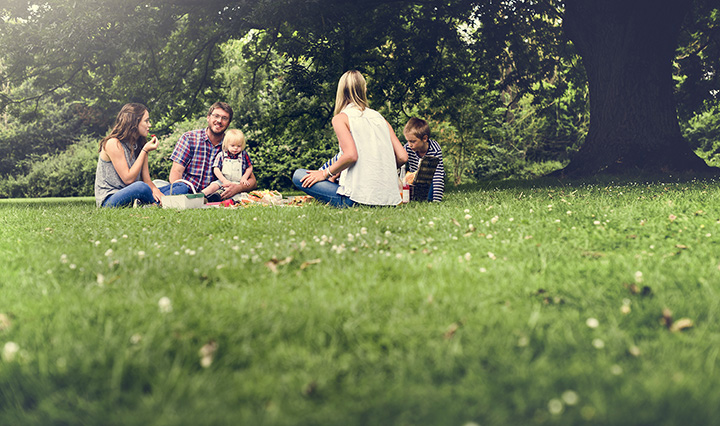 1. Betasso Preserve, Boulder, CO
Betasso Preserve near Boulder makes for a quiet picnic spot with views looking east to Denver. Wander around the preserve to find the perfect spot to set your blanket, or reserve the shelter for a fee. Don't forget to hit up the scenic hiking trails during your stay.
2. Lookout Mountain Picnic Area, Golden, CO
Lookout Mountain Picnic Area is a great place for a family outing. Located in Golden, Lookout Mountain not only has a picnic area but also a visitor's center and two short loop hikes. The picnic area is nicely shaded by a grove of Ponderosa pines.
3. Red Rocks Park and Amphitheatre, Morrison, CO
Red Rocks is nationally known as a beautiful concert venue. However, when not hosting top-notch music acts, Red Rocks is a great place to adventure and enjoy a picnic. Located in Morrison, which is about 15 miles west of Denver, Red Rocks actually has an area designated for picnicking. Don't miss the visitor's center to learn how this miraculous place was created.
4. Maroon Bells
The Maroon Bells area is one of the most photographed places in Colorado. Located outside of Aspen, venture to Maroon Lake during the summer. Both Maroon Peaks will be seen from the lake and don't be shy to lay your blanket and enjoy a nice meal among the wildflowers.
5. City Park, Denver, CO
City Park in Denver is one of the oldest and largest public parks in the Mile High City. This massive park is actually over 330 acres so there is sure to be a grassy space for you to picnic. There are two picnic locations in the park complete with picnic tables and grills.
6. Cuchara Pass
Cuchara Pass makes for a great picnic area during the summer. Venture into the San Isabel National Forest or simply stop along the Highway of Legends Scenic Byway to picnic with great mountain vistas and open fields.
7. Garden of the Gods, Colorado Springs, CO
The Garden of the Gods in Colorado Springs is a tourist and local favorite. Picnic areas are all over the park, which do have tables. The Garden of the Gods Visitor and Nature Center also has a café, where you can enjoy breakfast and lunch.
8. Denver Botanic Gardens, Denver, CO
Enjoy a picnic among 24 acres of flowers and plant life at Denver Botanic Gardens. The Children's Garden makes for a great family-friendly eating spot. However tables are available at the Mountain Shadows Pavilion and near the Home Harvest Garden.
9. Sloan's Lake Park, Denver, CO
Sloan's Lake Park has lots of grassy spots perfect for a picnic. Sloan's Lake is actually the second largest park in Denver at 177 acres. Check out the three picnic sites located at this large natural area.
10. Washington Park, Denver, CO
Known as "Wash Park" to the locals, Washington Park in Denver covers 165 acres including five picnic areas. The picnic areas at Washington Park do come with grills, so you can enjoy a hot meal at this local spot. The park has two lakes, tennis and basketball courts, playgrounds, a recreation center and both walking and biking trails.
11. Civic Center Park, Denver, CO
Civic Center Park in Denver is a popular local hangout during the summer months. Lay a blanket in the park's grassy expanse or near its many gardens. If you don't feel like bringing your own food, check out Denver's hottest food trucks that gather around Civic Center Park every Tuesday and Thursday during the summer.
12. Daniel's Park Picnic Area, Denver, CO
Have a picnic dinner at Daniel's Park in south Denver, since this park is a great spot to view a sunset. The park does have a picnic shelter with a stone fireplace. But if the shelter is full, there are picnic tables and grills located throughout the park.
13. Rocky Mountain National Park, Estes Park, CO
Head to Estes Park to visit one of Colorado's national parks, Rocky Mountain National Park. There are a number of picnic areas located in the park, whether you are looking for simply a picnic table or group accommodations. Do keep in mind that group picnic areas in Rocky Mountain National Park may require a fee and reservation.
14. Piney Lake
Piney Lake outside of Vail is a great spot to eat, fish and enjoy incredible mountain views. Piney Lake is actually the highest lake in Colorado accessible by vehicle. Therefore it is a popular destination for hikers, horseback riders and fishermen.
15. Betty Ford Alpine Gardens, Vail, CO
Located in Vail, the Betty Ford Alpine Gardens has a pavilion full of picnic tables and even a grill. This garden has the highest altitude of any botanical garden in the world. It is truly a magical place during the summer months. Picnickers are even welcome to bring their own horseshoes for the horseshoe pit located on the grounds.
Zip Lines!
Soar over Colorado's pristine landscape on one of these adventures.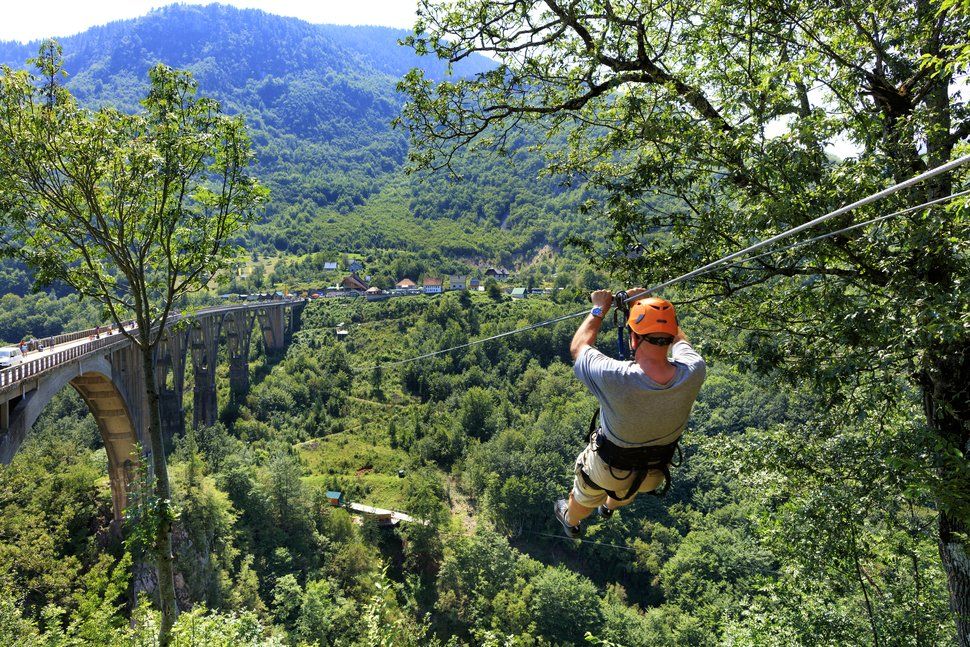 Note: Some companies on this list may have limited operations due to COVID-19. Check with operators about availability before you book.
Colorado's mountains, forests and rivers make ideal settings for zip lines. U.S News has identified these tours as the best for exhilarating rides amid striking scenery, thanks to traveler input and expert opinion. The zip line courses are located in various parts of the state, but all of them share a key element: seasoned guides that will help you make the most of your zipping time, whether you're a first-timer or an experienced zip liner.
Note: Zip line tours have age and weight restrictions, which vary by company. Furthermore, these tours are not recommended for anyone who's pregnant.
Royal Gorge Rafting and Zip Line Tours – Extreme Zip Line Tour
During this outing, tour-takers can reach speeds of up to 60 miles per hour on 11 lines with a combined distance of more than 2 miles. The tour ends with side-by-side racing lines that stop atop a seven-story tower, from which the adventurous can descend via a free fall device. (Climbing down using secured ropes is another option.) Past patrons invariably describe this tour as great fun and the guides as very helpful. Tours depart from the company's office in Cañon City, which sits approximately 55 miles southwest of Colorado Springs. Tickets for the three-hour tour, which runs year-round, start at $139 per person. Morning (9:30 a.m.) and afternoon (1:30 p.m.) start times are available, with additional departure times in warmer months. Royal Gorge Rafting and Zip Line Tours, as its name suggests, also offers a tour combining zip lines and rafting as well as a shorter, two-hour zip line tour.
[View & Book Tickets Option 1 | Option 2.]
Durango Adventures and Zipline Tours – 12 Zipline Tour
The dozen zip lines on this outing boast scenic views of the nearby San Juan Mountains and ponderosa pine forests, as well as the town of Durango in southwestern Colorado. You'll also take a short hike through the mountains and have the chance to cross a rope bridge. The teams of guides consistently win enthusiastic praise for their helpfulness, good humor and commitment to safety. For most of the year, tours take place three times daily, starting at 9 a.m. and 1 and 4 p.m. From November through February, tours begin at 10 a.m. and 1:30 p.m. (Additional times may be available in peak summer months.) Tickets for this three-hour activity start at $129 for participants 12 and older and $100 for children ages 5 to 11. Keep in mind, closed-toe shoes are required to ride; sandals are not permitted.
AVA Colorado Zipline – Idaho Springs Cliffside Zipline Tour
Adventurers can zip 2,360 feet of cable, including a pair of 600-foot dual race lines, during this excursion. The trip also boasts views of the Continental Divide. The outing ends with a zip over the Chicago Creek. Reviewers laud the guides as being very kind, helpful and knowledgeable. Tourgoers also say the guides made them feel safe. The three-hour tours operate from March through November. Exact departure days and times depend on the time of year, but you can expect to leave around 9 a.m., noon and 3 or 6 p.m. Tickets cost approximately $110 for adults and $100 for children 6 to 12. Tours depart from Idaho Springs, which sits about 35 miles west of Denver. AVA Colorado Zipline also runs tours out of Buena Vista.
The EDGE
With 10 lines, some of which are more than 100 feet above the ground, this tour offers adrenaline seekers the chance to reach speeds of up to 50 mph over the course of 2 miles of cable. You'll get a bit of exercise, too, as some hiking is involved to reach the lines. Guides are deemed personable as well as helpful to tour-takers of all experience levels. The mountain views win high marks, too. The 2 ½- to three-hour tours cost about $90 per person. The course is located in Castle Rock, which is about 30 miles south of Denver. The EDGE also has an aerial trekking course and a climbing tower.
Soaring Tree Top Adventures – Soaring Zip Line Tour
This all-day activity starts and ends with a train ride aboard the Durango & Silverton Narrow Gauge Railroad. Between the rail journeys through the mountains, participants can enjoy roughly 5 ½ hours of zip lining using 27 cables on private land surrounded by the San Juan National Forest. The tour features guides both to assist with safe navigation of the zip lines and to educate visitors about local sustainability efforts. Tour-takers regularly call guides friendly and knowledgeable. Additionally, they say the excursion is great fun. Trips run seasonally from May through mid-October. Trains depart from either Durango or Rockwood train depots. (Note: The train is the only way to access Soaring Tree Top Adventures.) The total time of your trip will vary depending on your departure point, but you can expect trains to leave around 8 or 9 a.m. and return around 4 or 5 p.m. The roughly $600 ticket price includes a four-course lunch, train tickets and use of all equipment.
Top of the Rockies Zipline – The Standard Two-Hour PROSPECTOR ZIP LINE TOUR
Situated on the Rocky Mountains, the six zip lines on this two-hour excursion offer unrivaled views of Mount Elbert and Mount Massive. One of the lines goes over a railroad track, meaning occasional lucky zip liners may travel over a moving train. Guides are generally regarded as professional, friendly and entertaining. The ticket price – about $125 for adults and $100 for children 7 to 12 – includes a shuttle van ride to the first zip line's staring point at an elevation of 11,200 feet. Tours run from mid-June through mid-October at 9 a.m., noon and 3 p.m. Wintertime zip line excursions are also available.
Zip lines are a fun vacation activity whether you're traveling solo or with a group.(GETTY IMAGES)
Zip Adventures
The course on this tour consists of six nicknamed lines with progressive levels of intensity, starting with the relatively tame "Bunny Line" and ending with the 1,000-foot-long "What Was I Thinking" line. Tour-takers also have the option of trying the Canyon Plunge, a free fall featuring an adventurous plummet down 65 feet from a zip line at 20 mph. (You'll be securely attached to a strong device that features a magnetic braking system to slow movement during the final descent.) Patrons appreciate the guides' knowledge and good humor. They also highly recommend the Canyon Plunge. Tours typically last approximately 2 ½ hours and commence hourly from 8 a.m. to 6 p.m. Outings run from late April to mid-December. Fees start at around $160 per person, which includes the optional Canyon Plunge. Zip Adventures is in Wolcott, about 25 miles northwest of Vail.
Adventures Out West – Colo~Rad
Five zip lines strung cliff-to-cliff means there are no towers to climb on this adventure set near the base of Pikes Peak. Though there are no towers, know that you'll be taking short hikes between the zip lines. Both the scenic mountain views and the informed and entertaining guides win plaudits from past patrons. Tours last from 1 ½ to two hours and are available year-round, but start times vary by season. Tickets start at $90 (which includes bottled water). Tours run in the Colorado Springs area. Adventurers can choose to meet guides at the zip line park or get picked up by the company at select local hotels. Adventures Out West also offers a variety of other types of excursions, including hot air balloon rides and bike tours.
Glenwood Canyon Zipline Adventures – Happy Hour Zip
After two hours of zipping back and forth across the Colorado River, adventurers can enjoy a drink at a nearby pub. The approximately $40 ticket price of this aptly named tour includes a draft beer or well cocktail. You'll also receive a discount on food at the pub. Tour-takers regularly remark on the guides' helpfulness, professionalism, enthusiasm and commitment to safety. Tours take place daily starting at 3 p.m. from late May to early September. Tours run out of Glenwood Springs, which is about 45 miles northwest of Aspen. The company offers other zip line tours of varying lengths, as well as combination packages that pair zip lines with activities like whitewater rafting.
Denver Adventures – 6-Zipline Adventure in the Rocky Mountains
Featuring a half-dozen lines ranging from 850 to 1,900 feet in length, this zip line tour is set in the Rocky Mountains. Speeds on cables can reach a swift 60 mph. Guides win praise for their adept instruction and amusing banter. Tours happen every day throughout the year with start times at 10 a.m. and 1:30 p.m. during winter (November through mid-March) and multiple times daily from late March through October. Tickets for this 2 ½-hour outing cost about $100 for participants 10 and older and $80 for children ages 5 to 9. As the company's name implies, you'll find Denver Adventures close to Denver – it's located in a nature park about 30 miles southwest of the city. Denver Adventures also operates sunset zip line outings, among other tours.
~BestThingsColorado.com
~US News
~Delish.com
Selling Your Home?
Get your home's value - our custom reports include accurate and up to date information.
Get Home Value