Graduation Time in Colorado!
You've been there for your grad every step of the way, from their very first day of school to the stressful high school years to now. Through it all, your pride has never wavered — and now, it's time to celebrate this major accomplishment in their life.
Evergreen High School, May 20th, Red Rocks
Clear Creek High School, May 21st
Conifer High School, May 21st, Conifer High School Football Field
Platte Canyon High School, May 28th
Golden High School, May 20th
University of Colorado, May 5th, University of Colorado CommencementRed Rocks College, May 14th, Red Rocks Community College Commencement
University of Denver, June 10th - June 11th, University of Denver Commencement
Colorado State University, May 13th, Colorado State Commencement
Metro State, May 13th, Metro State Commencement
University of Northern Colorado, May 6th - May 7th, UNC Commencement
After you finish wiping away your tears (#ProudParentAlert), get to work and plan the most epic graduation party with delicious food, themed decorations, favors and fun activities that everyone can enjoy.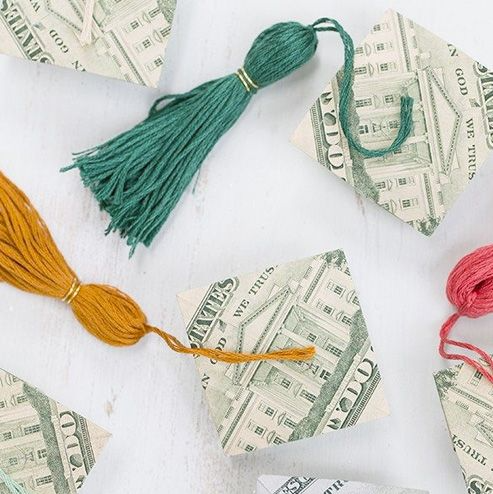 Browse through these graduation party ideas — some easy enough for you to DIY, some that require a quick trip to Amazon or Etsy — to get inspiration for your virtual or in-person celebration. A few of these ideas find a way to look back on all the milestones they've reached along the way. (Did you save all the class pictures going back to kindergarten?) Others will serve as a backdrop for all of your grad's Instagram photos or TikToks from the big bash. While most of these ideas lean into the fun, we know you can't resist getting sentimental, so we've included some clever ways to send off your high school or college grad with advice from their loved ones (and maybe even something they can take with them on their journey).
She's One Smart Cookie Spread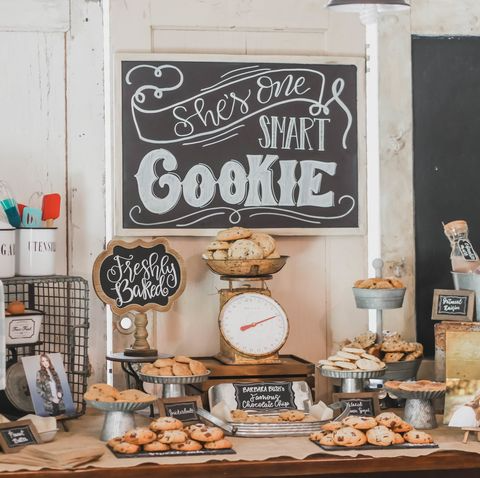 Celebrate your grad's smarts with a table full of sweets — peanut butter cookies, chocolate chip cookies and snickerdoodles. Pour a few gallons of milk into glass jars, so guests can wash down their treats.
Get the tutorial at Mint Event Design »
Wine Cubes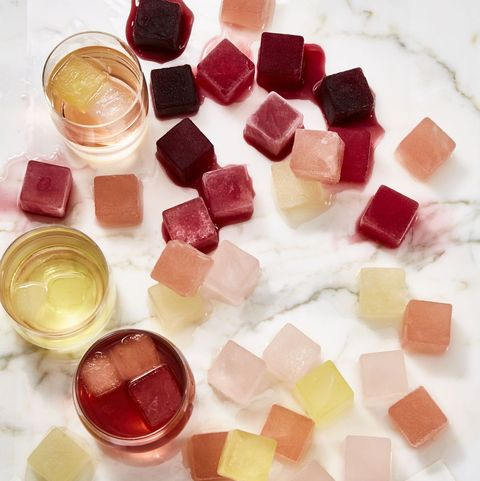 Don't let any of your party guests settle for warm wine. The night before, pour wine into ice cube trays and stick it in the freezer. That way, their wine of choice — red, white or rosé — can stay at the perfect temperature while they celebrate.
Peanut Butter Cup Push Pop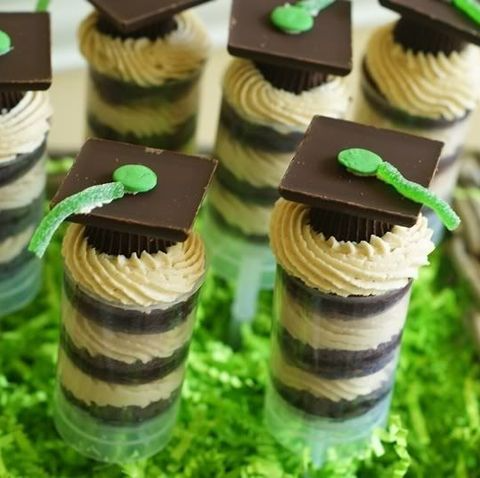 Throw it back to their childhood — remember Nestle's Push-Up Pops? — with these treats, layered with peanut butter buttercream and chocolate cake. Top it with a chocolate grad cap, complete with a sugary-sweet tassel.
Get the tutorial at Bake at 350 »
Graduation Candy Buffet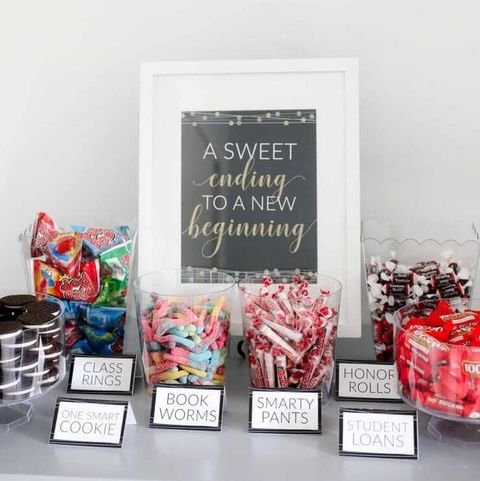 Candy is fun enough as it is, but this buffet spread finds a punny way to highlight their go-to sweets, like Smarties and Tootsie Rolls.
Get the tutorial at I Heart Naptime »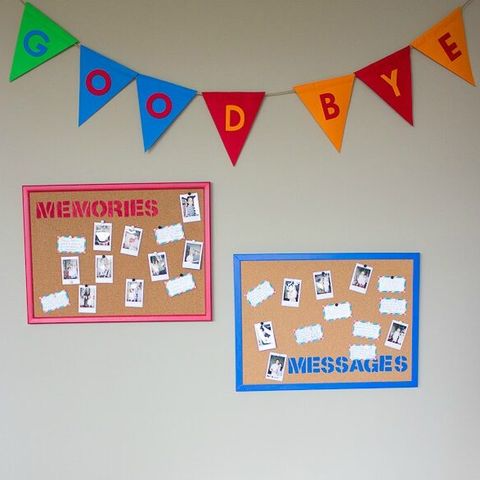 Messages and Memories Boards
Hang bulletin boards in plain sight to give guests a chance to write down their favorite memories with the grad, along with a few pearls of advice for their next chapter.
Get the tutorial at Design Improvised »
RELATED: Messages to Write to Your Graduate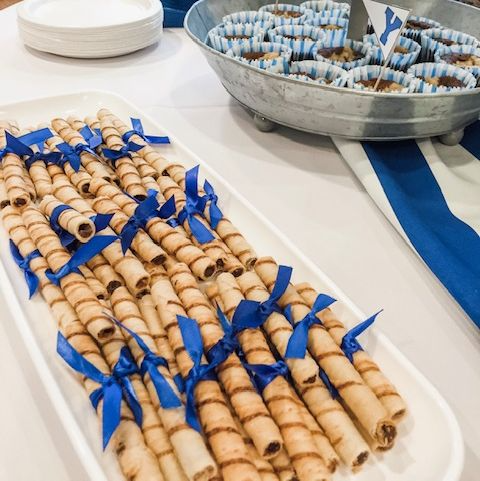 No-Bake Diploma Cookies
KARINS KOTTAGE
Pull together your dessert table in seconds with this no-bake treat: Just wrap a ribbon around a pirouette cookie to look like the diploma your grad just received.
Get the tutorial at Karins Kottage »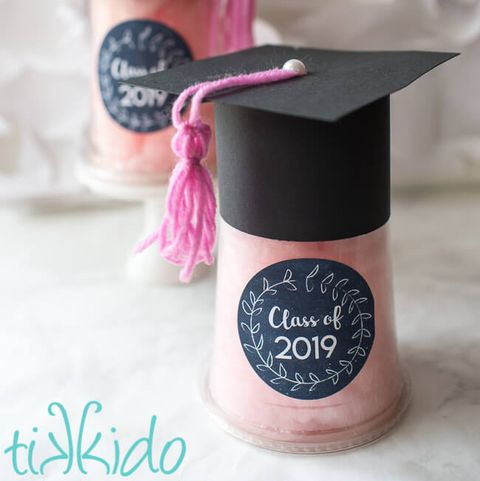 Cotton Candy Graduation Party Favor
TIKKIDO
Send your party guests off with something sweet: Fill plastic cups with cotton candy (see if you can find one in the color of their school) and dress it up to look like a mini graduate.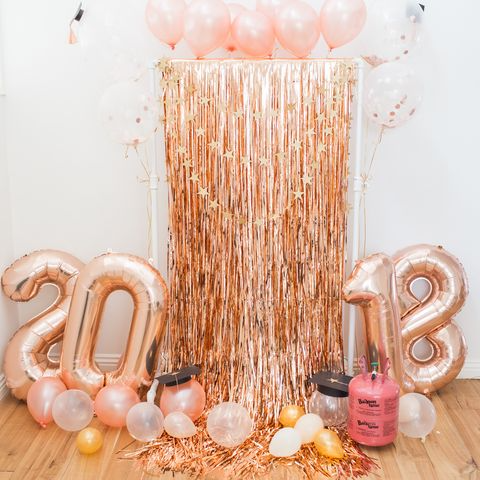 Rose Gold Graduation Backdrop
JESSI BURRONE
It's not a party unless there's a photo backdrop. This rose gold option, complete with fringe, balloons and a star garland, is totally Insta-worthy.
Get the tutorial at Lauren Conrad »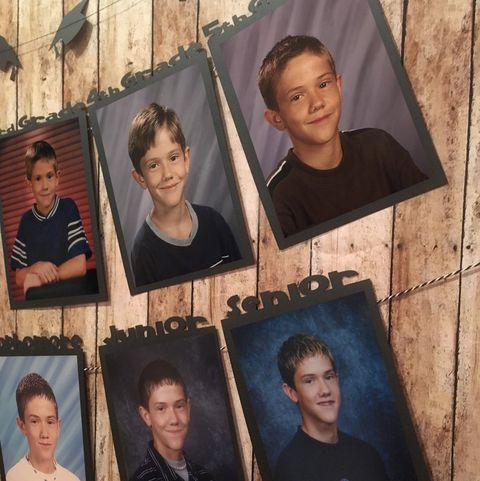 Class Photo Banner
ETSY/PENNANTPARTIESPENNANTPARTIESetsy.com$21.00
See how big your grad has become — and also how many different hairstyles and awkward smiles there have been along the way — with a photo banner that shows class pictures going all the way back to kindergarten.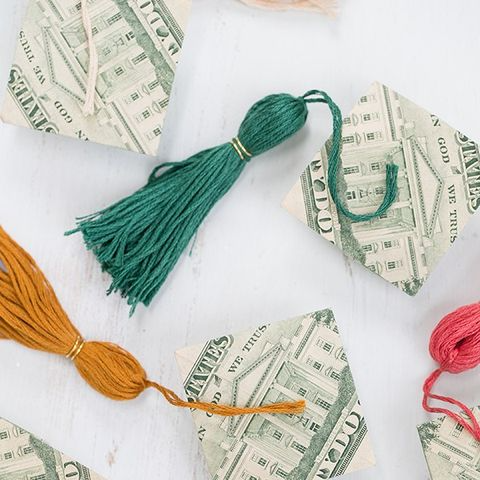 Origami Money Graduation Caps
SUGAR AND CHARM
If you're looking for a creative way to gift your grad some cash, stay on-theme by disguising it as mini graduation caps, tassels and all.
Get the tutorial at Sugar and Charm »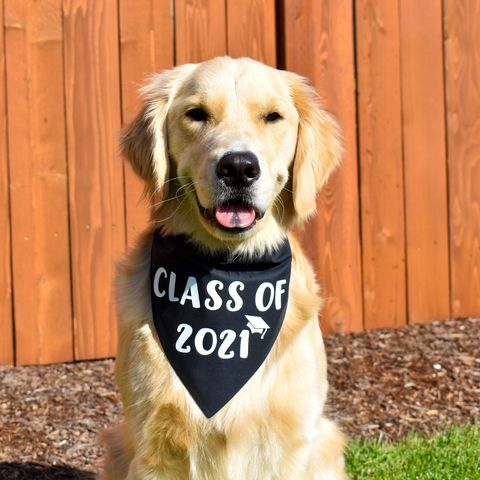 Class of 2021 Graduation Dog
BandanaETSYPOLKADOTPUPSBOUTIQUEetsy.com$18.00
Because cute puppy photos helped get your grad through those long nights of studying. Now, their pup can return the favor with a celebratory outfit.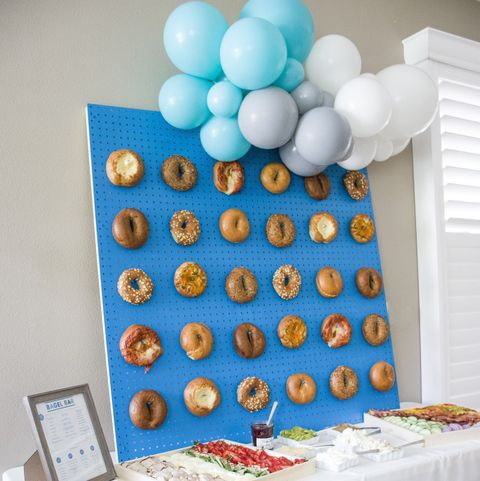 DIY Bagel Board
THE OKAYEST MOMS
Perfect for parties the day after graduation, this easy-to-make board will give recent grads everything they need to fuel up for their weekend i.e. carbs. Or if they prefer, fill it with donuts and other sweet pastries.
Get the tutorial at The Okayest Moms »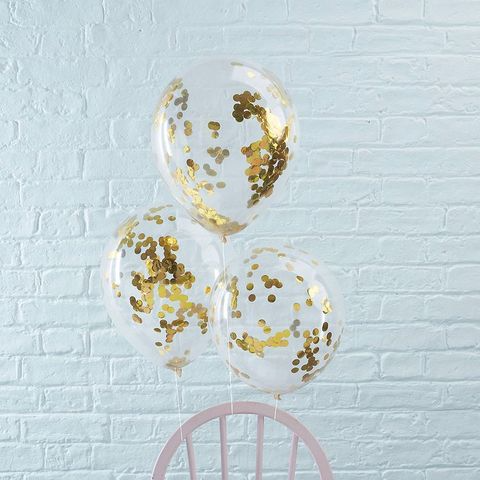 Confetti Balloons
ETSY/MABEAUTEBIJOUXMABEAUTEBIJOUXetsy.com$19.99
Balloons are the ultimate decoration: Simply, scatter 20 or 40 of these gold beauties in your space to show everyone where the party's at.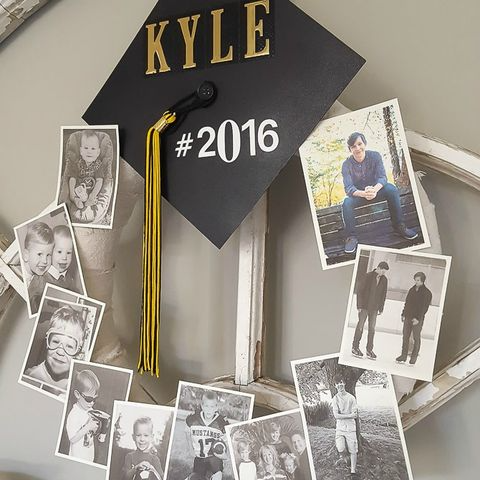 Graduation Photo Wreath
DIY BEAUTIFY
Take a trip back to your grad's first day of school (or even, the day they were born!) with this clever photo wreath. It'll finally give you something to do with all of those school photos you've been holding on to.
Get the tutorial at DIY Beautify »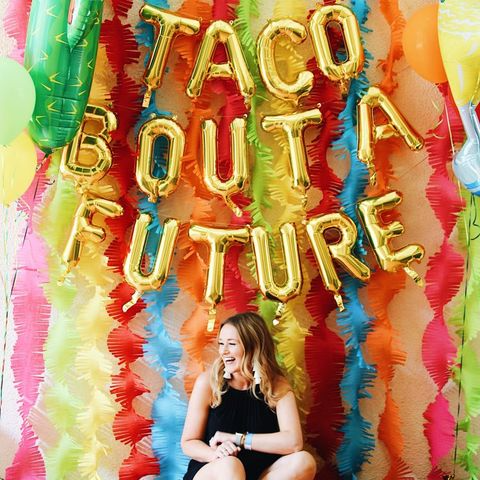 "Taco 'Bout A Future" Balloons
CASSIDY CULP
First comes the diploma. Then comes the tacos and guac ... right?
Get the tutorial at Cassidy Culp »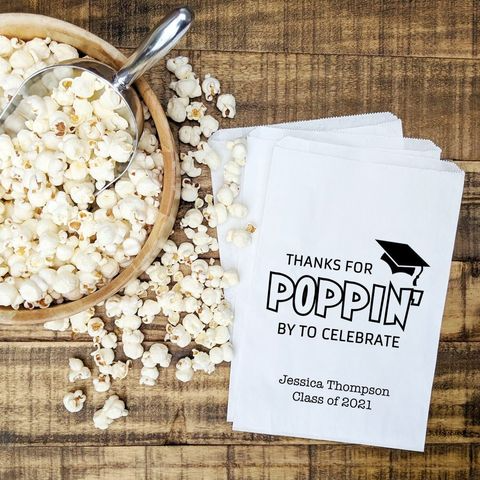 Graduation Favor Bags
ETSYUBELLIPAPERCOMPANYetsy.com
Since the kids have already filled up on sweets, send them home with something salty: freshly popped popcorn in these personalized paper bags.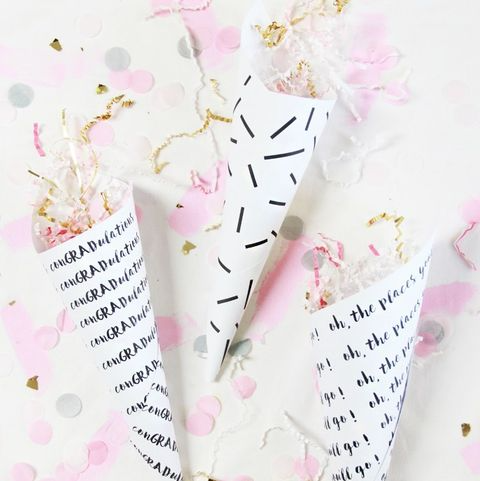 Confetti Cones
A BUBBLY LIFE
Pass out these cones to guests as they walk in the door and then have them shower the grad with confetti whenever they see them. A sprinkle of love, wouldn't ya say?
Get the tutorial at A Bubbly Life »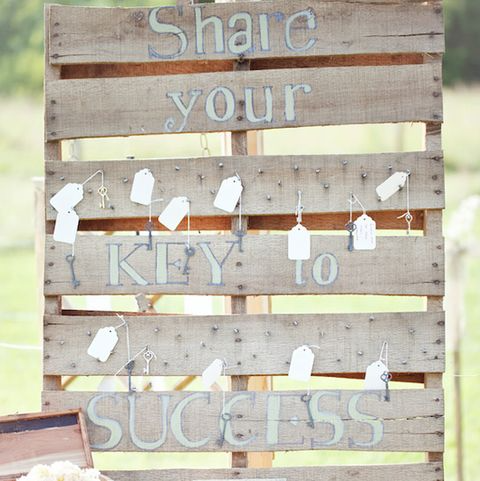 "Keys to Success"
COURTESY OF WEDDING CHICKS
As your graduate embarks on a new journey, make sure they're equipped with love and wisdom from every party guest — keys of success, if you will.
Get the tutorial from Wedding Chicks »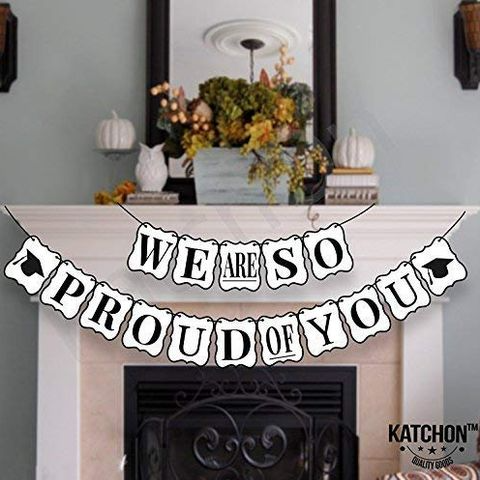 "We are so Proud of You"
BannerKATCHONKATCHONamazon.com$9.97
It may go without saying that you are proud of your grad, but this banner will really drive the point home.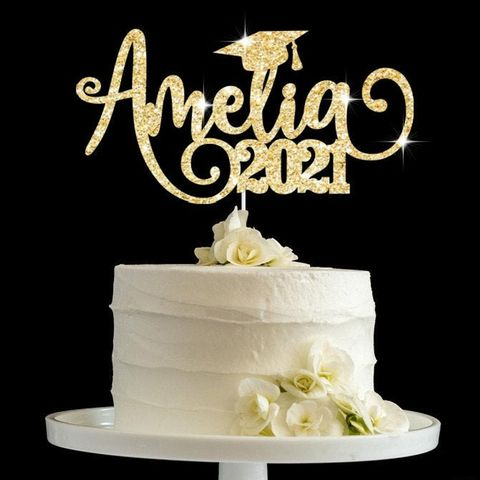 Graduation Cake Topper
ETSYMPDSIGNSetsy.com$15.00
Congrats, your hard work (read: baking a cake from scratch) has earned a cake topper as special as this!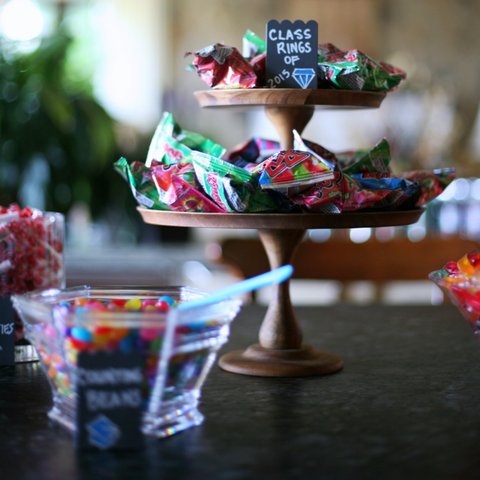 Class Rings
COURTESY OF MY LIFE AT PLAYTIME
Okay, so it might not be a "real" class ring, but we bet your grad will love the Ring Pop version nonetheless.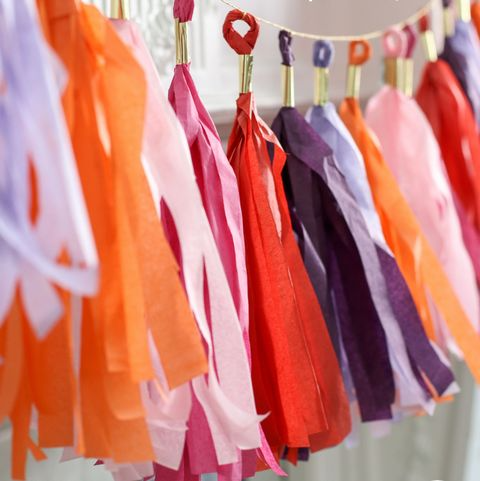 DIY Tassel Garland
COURTESY OF INSPIRED BY CHARM
The tassels on the graduation cap have been ceremoniously moved, and now it's time to party with these cheery paper ones.
Get the tutorial from Inspired by Charm »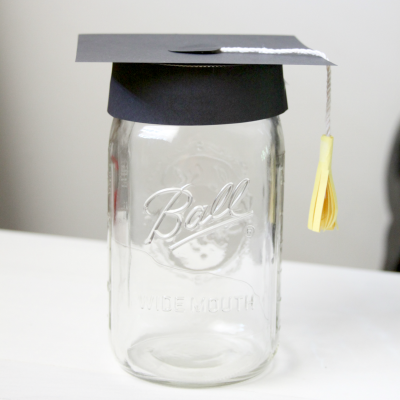 Grad Cap Mason Jar
COURTESY OF CRAFTING A GREEN WORLD
Fill a giant mason jar with party favors for the guests or use it as a way to hand off a special gift to your grad.
Get the tutorial from Crafting a Green World »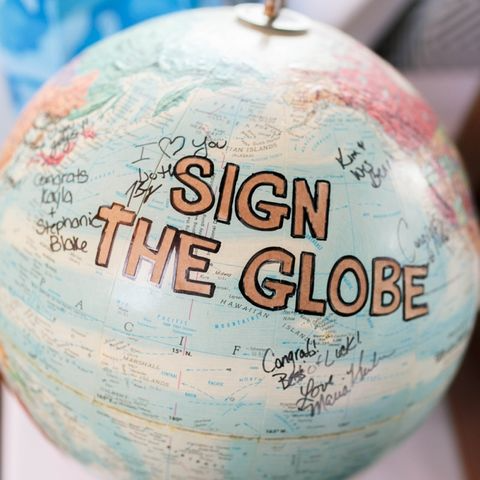 Guest Book Globe
COURTESY OF THE EVERY LAST DETAIL
Get everyone to sign well wishes on a globe to show your grad that they are loved and supported, wherever in the world they may be.
Get the tutorial from The Every Last Detail »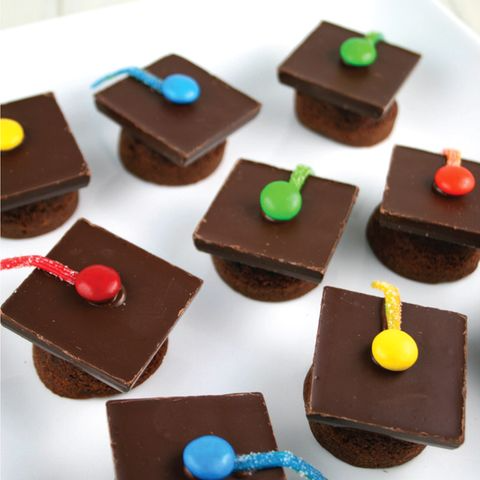 Graduation Cap Cupcakes
COURTESY OF MOM LOVES BAKING
Now, the most important question of all: Why can't all tassels be made out of sour candy?
Get the recipe from Mom Loves Baking »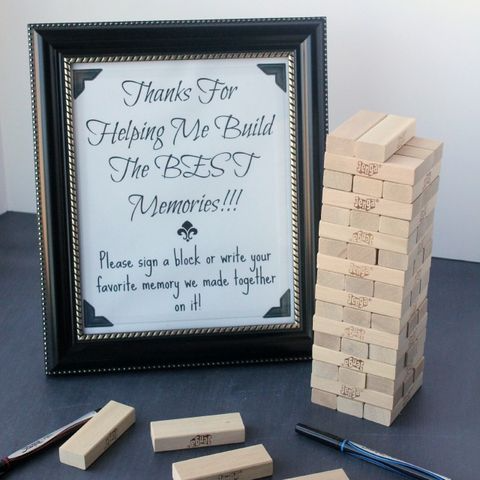 Jenga Guest Book
COURTESY OF MUST HAVE MOM
Send your grad off with this decorative Jenga set, personalized with sweet, inspiring or funny messages from friends and family.
Get the tutorial at Must Have Mom »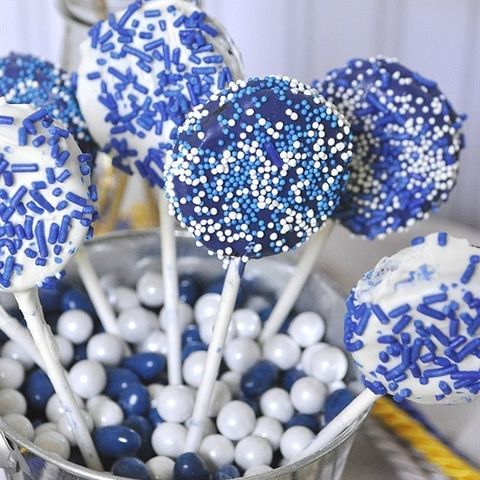 School Color Oreos
COURTESY OF YOUR HOME BASED MOM
Add a cheerful pop of color to the snack table with treats decked out in your grad's school colors (past or future).
Get the recipe from Your Home Based Mom »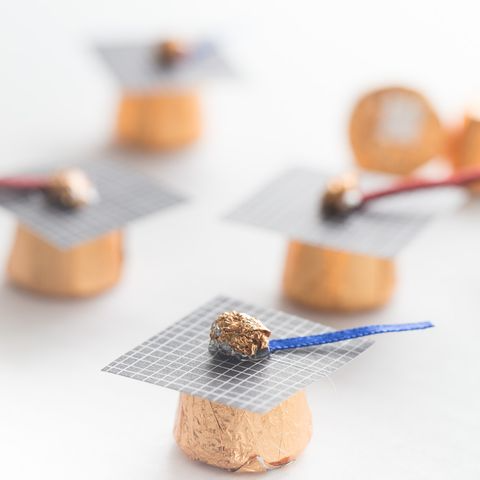 Grad Cap Rolos
COURTESY OF MADE TO BE A MOMMA
Before your guests head out, give them a handful of these chocolate-and-caramel favors for a final sugar-high.
Get the tutorial from Made to Be a Momma »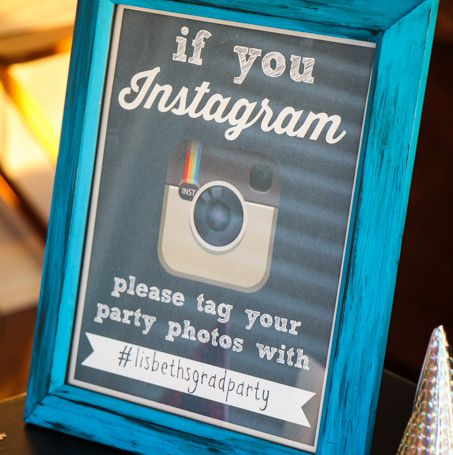 Instagram Hashtag
COURTESY OF THINKING CLOSET
Create a way for your grad to look back on their special day on Instagram with a single hashtag like #SarahsGradBash or #Nate2021.
Get the tutorial (and printable) from Thinking Closet »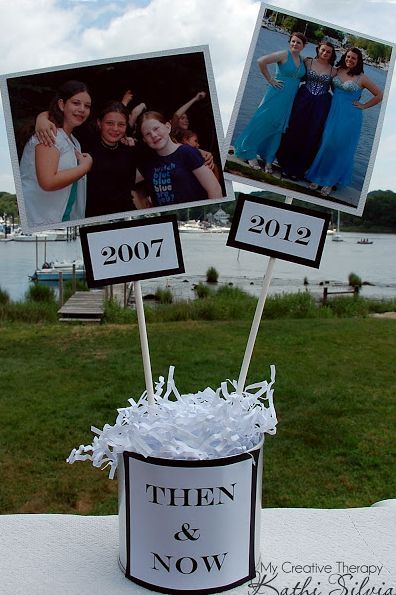 "Then and Now" Centerpieces
Everyone loves a good round of childhood photos — just maaaybe keep the bathtub ones tucked away in the photo album.
Get the tutorial from Kathi's Creative Therapy »
~Good Housekeeping
Selling Your Home?
Get your home's value - our custom reports include accurate and up to date information.
Get Home Value