Colorado Parks and Wildlife is the agency tasked with managing wildlife for the state of Colorado and for future generations. The agency often hears from citizens who want to "help" wildlife, however helping means keeping "hands off." By allowing our wildlife to retain their natural, healthy wild instincts, we show our respect for their wild lives.
Young, "abandoned" wildlife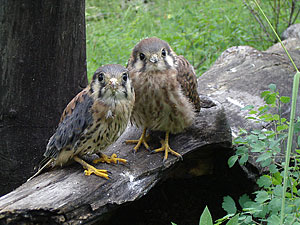 Each year, CPW receives scores of calls from concerned humans about wildlife that has been "abandoned" by adult animals. Many are tempted to "help" a young animal by picking it up or trying to feed it, however it is critical that people understand there is no substitute for their natural parents.
Wildlife experts agree that it is quite normal for adult animals to leave their young in safe places while they go forage for food. And often baby birds are fledging, or learning to fly, near their nests when they are deemed "abandoned." While well-meaning people sometimes gather up this baby wildlife and bring them to wildlife rehabilitation facilities, it is most often the wrong thing to do.
"Baby mammals are scentless in order to prevent predators from finding them," said Janet George, senior terrestrial biologist for CPW. "When humans touch these animals, they are imparting them with a scent their adults will not recognize. This can result in true abandonment of healthy offspring."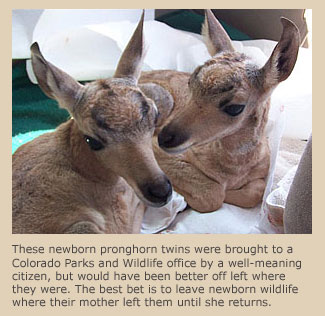 If you find young wildlife, enjoy a quick glimpse, leave the animal where it is, and keep pets out of the area. Quietly observe the animal from a distance using binoculars and don't hover so close that the wild parents are afraid to return to the area.
"If 24 hours go by and the parent does not return, it is possible the newborn was abandoned or the parent is dead (hit by a car, for example)," said Jenny Campbell, customer service expert with CPW. "Call our office and we will work with certified wildlife rehabilitation center to get aid for the wildlife if possible. Don't move the animal yourself!"
Feeding wildlife
CPW also wants to let citizens know that feeding corn and grain to some big game animals can be toxic and cause their death. Recently, four big game animals died on the Front Range as a result of being fed.
Deer, elk, bighorn sheep and other ungulates are all ruminants, animals with a complex digestive system composed of a four chambered stomach. These animals digest plant-based food through fermentation in a specialized stomach.
"Wildlife are well adapted to feed on natural food sources; they don't need food from humans," said Matt Martinez, a Colorado Parks and Wildlife officer in the Parker area. "People think that feeding wildlife doesn't negatively affect wildlife, but in reality it is irresponsible and often leads to the death of the animal being fed."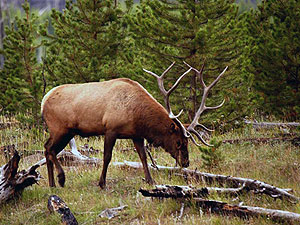 A law passed in 1992 makes it illegal to feed big game animals. This includes deer, elk, pronghorn, mountain goats, bighorn sheep, mountain lions and bears. Feeding wildlife is bad for the animals and dangerous for people, for a number of different reasons.
Every winter wildlife officers around the state pick up a number of deer, elk, and sheep that die as a result of improper food sources. Ruminants that ingest grain, corn, or other high carbohydrate foods can develop lactic acidosis or enterotoxemia. These two conditions are not uncommon in ruminants in areas where they are being fed food from human sources. These two conditions result in death, usually within 24-72 hours from the time the animal ingests the grain.
Ruminants can develop some tolerance to grain and corn over time, but feeding wildlife has other biological consequences. Salt and mineral blocks, corn, and grain all facilitate disease transmission. Chronic Wasting Disease in deer, elk and moose as well as pneumonia in sheep are very serious diseases. These diseases take time to develop in the animal, so the individuals feeding wildlife don't see the direct negative consequence of their actions. These animals frequently develop these diseases in areas where wildlife are fed and can affect many other individual animals than just the one that is initially infected.
"Just in the last month, a bighorn ram, and three deer have been found dead in the greater Conifer area as a direct result of feeding. Who knows how many others we never find are out there. If you value the wildlife around you, it is important to stop feeding wildlife," says Martinez.
People feeding wildlife generally fall into two different categories: those that don't know the harmful effects of feeding and those that are intentionally breaking the law. Many people feel it is helpful to feed wildlife, especially in the winter, and do so totally unaware of the consequences of their actions. Other people selfishly feed wildlife so they can see the animals in their backyards. Either way, people who feed create many wildlife related problems such as attracting predators like mountain lions to their neighborhoods.
~Colorado Parks & Wildlife
------
Selling Your Home?
Get your home's value - our custom reports include accurate and up to date information.
Get Home Value