Spam emails can quickly give you an overloaded inbox and create other problems. However, learning how to stop spam emails in their tracks with these handy tricks from Clean Email can help you reclaim your inbox (and your sanity).
Not only is spam a nuisance; it can also be a vector for viruses and malware. Thankfully, there are simple steps you can take to get rid of spam. Read on to learn how to stop getting spam emails, and how powerful online security software can help keep your inbox spam-free.
How to stop receiving spam emails
There's more than one way to stop getting spam emails. Below, we outline eight ways to stop unwanted emails from landing in your inbox.
Block spam senders
You can stop spam by simply blocking the senders. This will prevent those spammers' blocked emails from even reaching your inbox in the first place. If you're unsure how to block emails on your device and email service, jump down below to our section on how to block emails.
Report spam emails
Most email providers have a junk or spam folder. If you report an email as spam, future emails from that sender will be directed there. Technically, you still get the emails, but because your email now filters them directly to spam, they won't clutter your inbox.
Each email provider works a bit differently, so we've outlined how to report spam emails for the most popular email clients.
How to report spam emails in Gmail
Check the box on the left side of the spam email. Click report spam (the stop sign icon).

How to report spam emails in Outlook
Tick the box next to the junk email. Select Report and Report junk.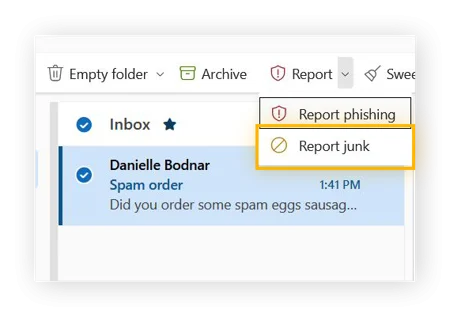 How to report spam emails in Yahoo Mail
Check the box to the left of the spam email and click Spam.

A secure browser will help you automatically send these rogue spam emails to your spam folder. Check out our list of the most secure browsers and choose the best browser for your needs.
Unsubscribe from newsletters
It's easy to subscribe to newsletters, but it can quickly get out of hand as the unread emails pile up. Newsletters are more than just junk mail when they're no longer relevant to you. They can also be used for ad tracking purposes, adding more cookies to your browser's cookie collection and leaving a more detailed trail of your digital life.
You can usually unsubscribe by clicking the Unsubscribe link at the bottom of a newsletter email. Make sure to unsubscribe only from senders you recognize. If you don't recognize the sender, and you didn't recently subscribe to a newsletter, move the email immediately to the spam folder to avoid inadvertently clicking a link that may contain malware.
Adjust email privacy settings
You can also get rid of spam emails by adjusting your email privacy settings. The default settings on most email clients aren't always strong enough if you want to protect your privacy — but you can strengthen these with just a few tweaks.
In Gmail, you can adjust privacy settings for your Google Account, which covers all Google services, including Search and YouTube. Click your profile icon, then Manage your Google Account. In the Data and Privacy section, you can choose whether to retain your history in these services, turn off personalized ads, and adjust who can see your info.
In Outlook and Yahoo Mail, you can make similar adjustments regarding personalized advertising and location tracking — go to Privacy dashboard in Outlook and Privacy Controls in Yahoo.
You can also bolster your email security by setting up two-factor authentication and adding a recovery phone number and email.
Use email filters
You can adjust your email settings or use third-party email filters to bolster your anti-spam defenses.
How to set up email filters in Gmail
Click the search options icon on the right.

Enter an email address or keywords you want to filter, then click Create filter.

On the action menu that opens, choose from the list of options, including the option to delete all emails from that sender.
How to set up email filters in Outlook
Click the three horizontal dots in the email menu bar and select Rules and Manage rules.

Here, you can set up filters to automatically send emails from a sender or domain to your Junk mail.
There are also third-party email filters that can simplify the process, but some third-party services can expose your emails to tracking and marketers, so do your research before downloading a third-party email filtering app.
Use a secondary email address
Another way to avoid spam is to use another email address for purchases, event sign-ups, and other trivial activities. Using a different email address will shield your main email account from getting so much junk mail.
Maintaining a dedicated email address for work and personal contacts and a separate one for other online activities can drastically reduce the amount of spam in your inbox.
Share your email address only with people you know
While you can't usually prevent your email address from getting caught up in a data leak, you can control who you share your address with. Keep your primary email address and other personal details private by sharing them only with trusted individuals and organizations. This will also help prevent annoyances like robocalls and threats like spear phishing.
Improve your device security
You can also boost your privacy by improving your overall device security. VPNs offer a lot of security benefits by masking your location, encrypting your connection, and preventing your ISP from tracking you.
Why am I getting unwanted emails?
You can get unwanted spam emails for many reasons — some within your control and some not. You may have shared your information with sites or companies that sell or share data with third parties. Or, a company or site you shared your email with may have suffered a data breach, meaning that the data was stolen and could be used for sending spam emails.
What can you do to prevent getting unwanted emails in the future? Make sure to review the data protection and privacy policies for companies you share data with. Otherwise, you may give permission for your data to be shared without realizing it.
How to block unwanted or spam emails on Gmail
Check the box of the email you want to block, then click the three vertical dots and select Filter messages like these.

Click Create filter, then Delete it, and Create filter to confirm and create the filter.
To help prevent unwanted emails in the future, you can also review the sites you log into with Google, and remove the Google login from sites you don't use anymore. This may also reduce your Gmail account's exposure to email hacking.
How to block spam emails on Android
Open Gmail on your Android phone or tablet.

Open the relevant message and tap More (three vertical dots), then Block user.
How to block spam emails on iPhone and iPad
Open the Mail app and select a message from the sender you want to block.

Tap the sender's name, which will pull up a menu with their contact details.

Tap Block this Contact.
To improve your device's security and prevent further unwanted emails, you can use an iPhone security app and set up a mobile VPN.
How to block emails on Outlook
In Outlook, right-click the email address that you want to block. Select Block, then Block sender.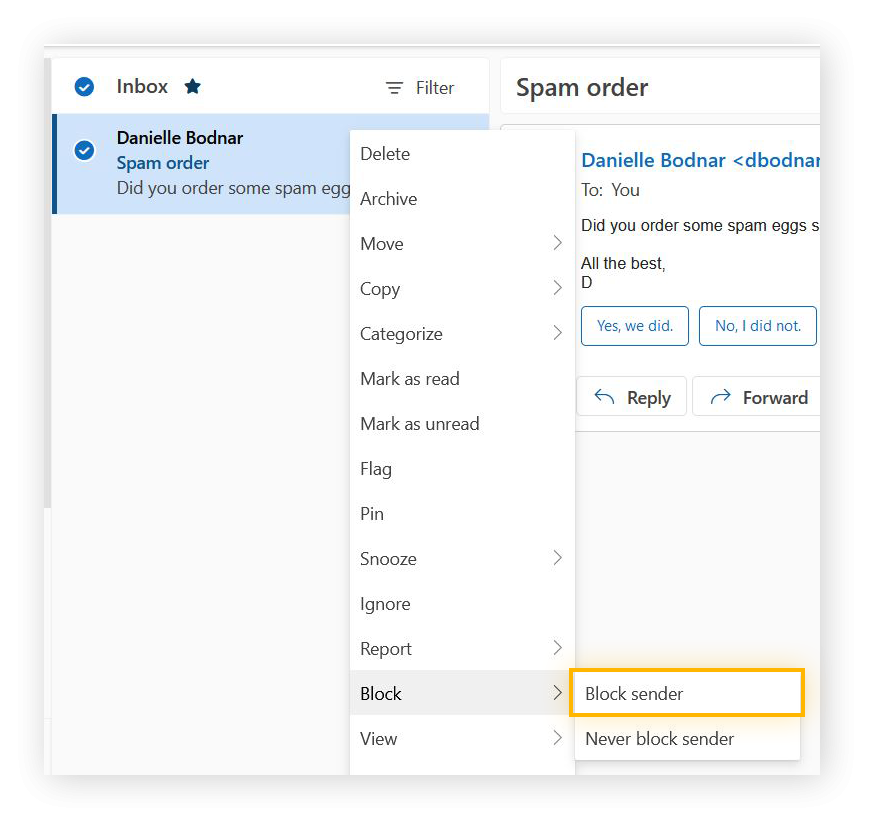 If you're using Outlook on Windows 10, adjust your privacy settings to minimize the amount of data about you, your account, and your device that's shared with Windows and third parties.
How to block unwanted emails in Yahoo Mail
In Yahoo Mail, check the box next to the sender you want to block. Click the three horizontal dots and select Block senders.

What to do if you receive a suspicious email
While most spam emails include harmless advertising content, some are scams or phishing attacks. These can look convincing, too, even appearing as if they come from your bank or another trusted source. Unless you're sure an email is legitimate, don't click any links, and report internet scams if you come across one.
Even opening spam emails can be dangerous. You should use automated tools like email scanners and the best antivirus software to identify spam or malware in emails before you open them.
~AVG.com
Selling Your Home?
Get your home's value - our custom reports include accurate and up to date information.
Get Home Value