Winter Fun in the Foothills
ICE SKATING AND HOCKEY at Evergreen Lake
Masks are REQUIRED AT ALL TIMES while skating at Evergreen Lake House and Buchanan Ponds.

Buchanan Ponds skating is closed for the season due to unstable ice.





Skating at Evergreen Lake is Now Open!
Ice skating and hockey will look a little different this winter, but EPRD is working with Jefferson County Public Health to make sure we can provide a safe experience for all visitors, residents, and employees. We are still working on details, but below is some information subject to change:
Tickets will be sold up to seven days in advance by time slots - online only. No walk-up ticket sales.

We will have smaller individual rinks this year limited to 10 people per rink. You must maintain 6 feet of distance between households.

For contact sports such as hockey and broomball, only one household per rink allowed. If you are doing skills/drills (no scrimmage/game) and can maintain 6 feet of distance between households, you can have more than one household per rink.

For tickets, you will need to have an account with EPRD's registration software, ActiveNet. Therefore, we suggest setting up an account now if you do not have one. Most EPRD patrons will have an account and may only need to update their information. Instructions for ActiveNet are on the

Community Announcements Page

.

EPRD will use every other rink with staggered times to abide by health orders to maintain 50 feet between groups.

No shuttling this year due to COVID-19. Parking is always limited, so when your time is done at Evergreen Lake, please be kind and leave promptly so the next wave of skaters can have a parking space.

Skate rentals and limited concession food/drinks will be available outside ONLY at Evergreen Lake. No inside access to Evergreen Lake House will be allowed. No skate rentals or concessions at Buchanan Ponds.

No refunds, credits, or transfers unless EPRD closes due to weather or ice conditions.

Masks are required.
Hours:
Monday through Friday: 3 to 7 PM, weather permitting

Saturday: 8 AM to 8 PM, weather permitting

Sunday: 8 AM to 7 PM, weather permitting
Always call the Skating Hotline 720-880-1391 before heading to Evergreen Lake or Buchanan Ponds as fluctuating weather can affect hours of operation.
2021 Evergreen Pond Hockey Championship- Cancelled for 2021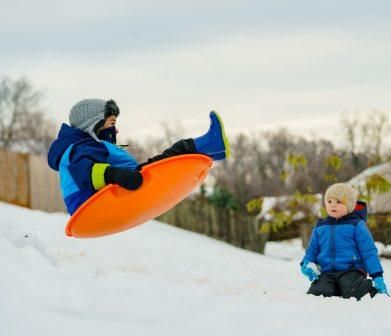 Sledding at Meyers Ranch
You don't have to be a snow athlete to enjoy riding a sled down a snow-covered hill in the winter. You can run into trouble, however, if you sled on hills where large rocks, tree stumps or other obstacles can hide just under the surface of the snow, impacting with your sled and potentially throwing you off into other obstacles. You won't have to worry at Conifer's designated sledding area at Meyers Ranch Park just 15 miles southwest of Denver.
Setting
Enjoy both large and small sledding hills at Meyers Ranch Park in Conifer. The open space park is managed by Jefferson County (jeffco.us) and is convenient to Highway 285. You can park at the bottom and pull your sled up the 400-foot hill and slide down time and again. The sledding hill is a grassy hillside when its not covered with snow, with no obstacles or hazards to ruin your fun. You'll find built-up snow ramps to sail over on your snow tube or disk, as well as open space for riding a traditional sled.
Season
You can find enough snow to ride down the hillside as early as late November, but you're most likely to find conditions prime for sledding by late December. An annual sledding race is part of the town's Christmas Parade Events, and the Mount Lugo Snowtubing Competition is held at the park each January. Conifer's 8,278 foot elevation can receive snow as late as March, but warm springtime winds quickly melt away the snowpack during the latter part of the month.
Other Activities
Meyer Ranch Park has seen days as a ski area in the 1940s and as a working ranch. Strap on some snow shoes and explore the Owls Perch or Lodgepole Loop trails in the park, or head off on a cross-country skiing adventure along the park's longer trails. The wide-open meadows, used to house circus animals for P.T. Barnum's circus in the 1890s, break into profuse displays of wildflowers in late May and June. Take a hike on the Old Ski Run Trail or Sunny Aspen Trail in autumn to be surrounded by thousands of brilliant yellow aspen leaves.
Tips
If you are sledding with an old-style sled that uses metal runners, wear a helmet. Although the base under the snow is grass, if you take a spill, the weight of the sled or runners can pack an injurious punch to your skull. Drink plenty of water and hydrating fluids if you are from a significantly lower elevation to help prevent altitude sickness. You can take a pain reliever and antacid to combat symptoms of headache and nausea often associated with early signs altitude sickness. You'll find the park's restrooms up the hill on the Owl Perch Trail approximately 1/2 mile from the parking lot.
Selling Your Home?
Get your home's value - our custom reports include accurate and up to date information.
Get Home Value